Music in the Antarctic
Thu, 30th May, 2013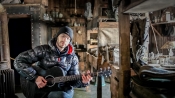 Composed as a tribute to Captain Scott's Polar Expedition, Jake Wilson's album All's Well reflects upon their extraordinary journey, and the sufferings, triumphs and disasters that the Expedition met on its journey to the South Pole. It takes the form of a song cycle, with each individual piece (Home, Maybe Some Time, All's Well, Sleep in the Cold, and Black was the Flag) representing the thoughts of one of the five members of the final party selected to attack the Pole (Evans, Oates, Wilson, Bowers, and Scott, respectively); each song is as unique in character as the man it portrays.
Wilson recently undertook a demanding journey to the Cape Evans in Antarctica to perform his album on the 101st anniversary of the deaths of the Polar party. Sitting in the hut Scott and his companions once inhabited, he then performed the entire cycle of songs in order, bringing to life once more the story of Scott, Oates and the Expedition. A special guitar and heavy clothing were necessary simply to cope with the challenge of playing in temperatures as low as -13°C, making this once-in-a-lifetime rendition possible.
A full account of the trip, along with the complete album, All's Well, can be found on Jake Wilson's website.