The History of the Green Trousers
Tue, 28th Oct, 2014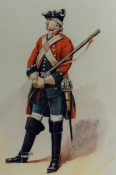 During the period following the Geddes Axe amalgamations, the newly created amalgamees - the so-called "Fractions" regiments - strove to create a new and distinct sense of identity from among the remnants of the old. In the words of Lt. Col. Evans: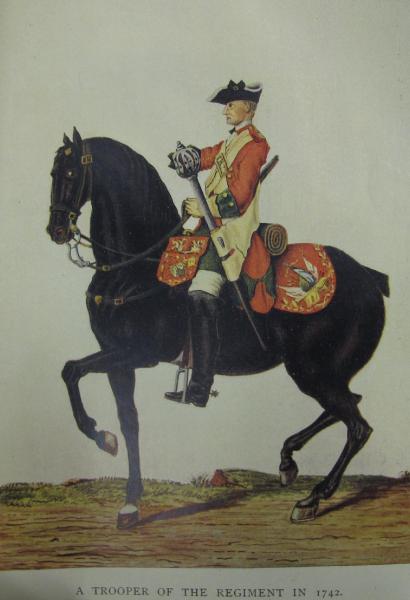 'The unification of dress was a matter which had already been receiving consideration in the Regiment. The Commanding Officer Lt Col J A Brooke who had succeeded Lt Col Terrot, was therefore able to place his recommendations before the Colonels of the Regiment while he was at home on leave that summer. (They were in India at the time) These recommendations were governed by the ruling factors that characteristic distinctions in the dress of both parent regiments should be as fully and firly represented as might be compatible with simplicity, and that the cost to the public and the expense to the members of the Regiment should be as low as possible.
For the most part, recommendations were on details such as badges and buttons, but there was one major matter which was put forward with some anxiety as to its reception-a suggestion to revert to the old colour of the 5th Dragoon Guards for breeches and overalls.'
Above: A Private of the Green Horse, 1742; taken from Pomeroy's History of the Fifth Dragoon Guards.
'"Full green" was the colour of the facings of the Green Horse; in 1751 green breeches were laid down in Clothing Regulations as their wear; in the Royal Collection at Windsor there is a drawing of a private of the regiment wearing green breeches."
"These facts were accepted by the War Office as creating a precedent. The introduction of green breeches and overalls for the 5th Inniskilling Dragoon Guards was duly authorized. Green trousers were not specifically mentioned as at that time "trousers" were not worn on parade. Just before the Second World War green trousers were about to be officially recognized. Since then with the passing of breeches and overalls and the acceptance of trousers on ceremonial parades such as investitures, the custom has become established.'
Below: The present Regiment, The Royal Dragoon Guards, carries on the tradition.