Military Cross awarded to Royal Dragoon Guards soldier
Fri, 4th Oct, 2013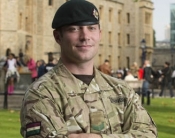 During an assault that would span twenty four hours, Corporal Oliver Bainbridge, of A Squadron, The Royal Dragoon Guards (Catterick), displayed incredible bravery, selflessness and offensive spirit to protect his men and repel the enemy.

Oliver, from Retford, near Doncaster, was leading his Section of the Brigade Reconnaissance Force (BRF) into an insurgent stronghold in the Arghandab River Valley on November 10th 2012 when they came under intensive rocket propelled grenade and machine gun attack.

Two dismounted BRF troops began extracting to a patrol base when Oliver's troop was ordered to move into an over-watch position before extracting themselves.

Commander of the lead Jackal, his vehicle struck an IED, disabling and engulfing it in debris and dust.

Quickly seizing control, and with no regard for his own safety, he began checking his crew. His driver, who had a suspected broken femur, was semi-conscious and in shock.

Oliver said: "He was in shock, slipping in and out of consciousness but in a lot of pain and at first there was no way of knowing if his injuries were life-threatening."

Oliver administered effective first aid before calming and ordering his disorientated Gunner, who had been blown from the vehicle into an area of significant threat, to safety.

A medic moved forward to assist him, with their position coming under heavy and accurate fire. It was clear the insurgents were determined to inflict further casualties on the static and vulnerable target.

Multiple bursts of rounds impacted the ground and the Jackal within 30cm of Oliver as he grabbed his injured driver and dragged him to a crater caused by the blast, while simultaneously instructing the IED search team and medic to seek cover.

The driver, unable to defend himself, would undoubtedly have been hit by the extremely accurate fire had it not been for Oliver, who then further exposed himself to the incoming fire by lying on top of him for several minutes before taking up his own rifle, which had been blown clear of the vehicle by the blast, to suppress the firing point.

The 25-year-old former Elizabethan High School pupil, said: "It was a natural instinct to protect him. He was hurt and couldn't move, I didn't want him to get hit again. The bullets were whizzing past and cracking against our vehicle."

Oliver then personally coordinated the driver's extraction to the relative safety of a Warthog. With his crew safe, and with light fading, he returned to his vehicle to remove all mission-essential equipment.

This took two hours before he moved with his troop to a defensive position 100 metres north of the stricken Jackal.
Oliver said: "It was exhausting. I just had to keep myself going. I can't praise the work of the Vallon detector guys who cleared the safe route back. They were under a lot of pressure and without their focus and expertise we could have all been hit by IEDs."

At first light, he led a three-man team back to the vehicle to oversee its recovery by a Warthog. Again, they came under fire from multiple points.

Before moving from the blast site, his team confirmed two more IEDs just 30cms either side of the safe lane created the previous night.

Despite the risk to his own safety, and demonstrating unwavering dedication, he returned for a third time to ensure nothing could be exploited by insurgents.

Subsequently, while leading his Section on another raid on an insurgent target, Oliver was seriously injured.
His citation states: "This action typifies Bainbridge's character, noting that he has been struck by IEDs three times in his career.

"This display of personal courage, selfless commitment and inspired leadership has resonated throughout the ranks."

The Military Cross was instituted in 1914 and is awarded to all ranks of the Royal Navy, Royal Marines, Army and RAF in recognition of exemplary gallantry during active operations against the enemy on land.

The announcement was made on Friday, with the release of the latest operational honours and awards list which includes 117 personnel. The awards are for actions roughly during the period September to March 2013 during Operation HERRICK 17.
This story originally appeared on the Army Website (www.army.mod.uk).